23:51 (IST) May 26
Villarreal players are warming up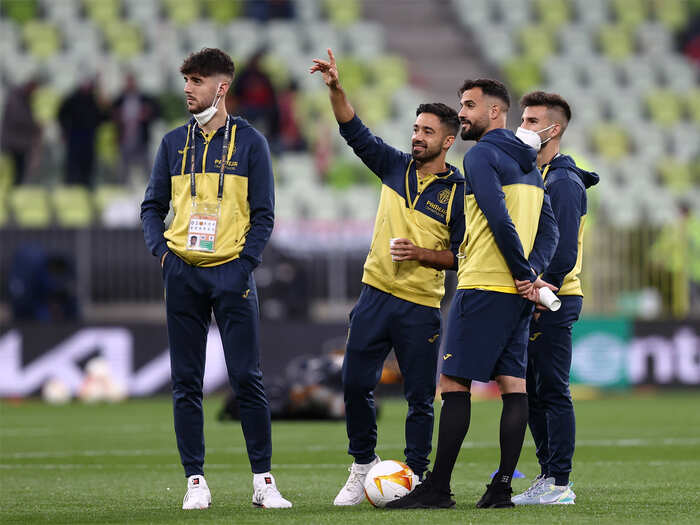 Fernando Nino, Jaume Costa and Mario of Villarreal CF look on ahead of the UEFA Europa League final between Villarreal CF and Manchester United at Gdansk Arena on May 26, 2021 in Gdansk, Poland. (Getty Images)23:40 (IST) May 26
Here's Villarreal's Starting XI
Here's how the Yellows will line up in Gdansk for the historic game. Let's go, Villarreal! 💛 #UELFinal #ItsOurTime https://t.co/GN2A9AFSx3— Villarreal CF English (@Eng_Villarreal) 1622051429000
23:35 (IST) May 26
Here's Manchester United's Starting XI
🔴 𝐓𝐄𝐀𝐌 𝐍𝐄𝐖𝐒 🔴 Presenting our final starting line-up of the season ⬇ #MUFC | #UELfinal— Manchester United (@ManUtd) 1622051151000
23:33 (IST) May 26
Team news coming in — No Fred; Bailly and de Gea to start for Man United tonight23:32 (IST) May 26
Schweinsteiger sends his best wishes to United and their fans
Dear @ManUtd and fans, today is a good day to win the @EuropaLeague again 🏆 I'll keep my fingers crossed and wish y… https://t.co/uuZ4NBzUun— Bastian Schweinsteiger (@BSchweinsteiger) 1622022120000
23:28 (IST) May 26
Yellow Submarines are here!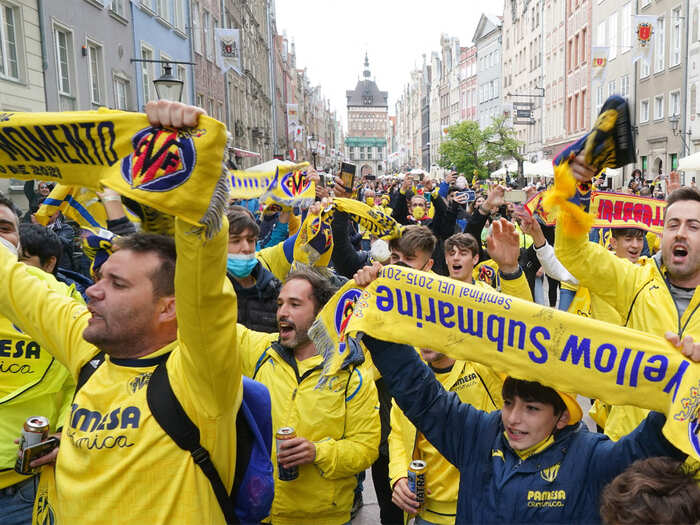 Villarreal supporters gather to celebrate prior to the UEFA Europa League final at the Gdansk Stadium in Poland. (AFP Photo)23:24 (IST) May 26
Enthusiasm for final beats COVID fears, say Europa League fans
Fans flocking into Poland's historic city of Gdansk for the Europa League final between Manchester United and Villarreal on Wednesday said their enthusiasm for the game had triumphed over their fears about COVID-19. English and Spanish supporters said they were excited to be able to witness the first major European final in nearly two years to have fans in attendance.READ FULL STORY23:17 (IST) May 26
United fans are ready to back their team

Manchester United fans ahead of the final. (Reuters Photo)23:12 (IST) May 26
Up to 9,500 spectators — 25 percent of the stadium's roughly 40,000 capacity — will be allowed to attend the final, with each finalist allocated 2,000 tickets.23:07 (IST) May 26
I have no thoughts of revenge against an English club or anyone else. All I do is to try and bring the best that Villarreal can achieve. It's a great club. This competition has improved hugely and it's full of powerful teams of the top level who are desperate to win it and Villarreal has earned a place in that group.
Villarreal coach Unai Emery, a three-time Europa League winner with Sevilla between 2014 and 2016
23:00 (IST) May 26
Here's a glimpse of the trophy they are fighting for tonight!

The UEFA Europa League Trophy inside of the stadium ahead of the final between Villarreal CF and Manchester United at Gdansk Arena. (Getty Images)22:57 (IST) May 26
Not only are Villarreal appearing in a first European final and seeking a first major trophy, but they have the added incentive of Champions League qualification at stake in Poland. Villarreal spent much of their history in Spain's lower divisions before eventually reaching the top tier in 1998.22:55 (IST) May 26
Solskjaer has steered United to back-to-back top-three finishes for the first time since Alex Ferguson retired as champion in 2013.22:51 (IST) May 26
United finished second to Manchester City in the Premier League and will go into the final as clear favourites against Villarreal, who came seventh in La Liga in Emery's first season.22:45 (IST) May 26
These are big nights for us. It might be the stepping stone for something better to come, a bright future because this team is a young team. It's a team that we've rebuilt over the last couple of years, so hopefully this is the start of something more.
Man United manager Solskjaer
22:43 (IST) May 26
Defeat to Sevilla last season was the third of four semi-final losses for Solskjaer since replacing Mourinho in December 2018, but an 8-5 aggregate win over Roma finally broke the curse.22:42 (IST) May 26
Man United's last trophy came in the 2016-17 Europa League under Jose Mourinho, when they beat Ajax 2-0 in Stockholm to become just the fifth club to win all three major UEFA competitions.22:42 (IST) May 26
Ole Gunnar Solskjaer, the hero of one of Manchester United's greatest European nights, will aim to guide the club to a first title in four years tonight against a Villarreal side coached by Europa League specialist Unai Emery22:41 (IST) May 26
Hello and welcome to the live coverage of the Europa League final between Villarreal and Manchester United