PUNE: After cancellation of the secondary school certificate (SSC, std X) exams by the education department, students who had relaxed for nearly one month are now anxious as a result of the ongoing court proceedings regarding the board exam.

Many students and parents said they were waiting for the schools to inform them about internal marks and the admission process ahead. Recommended By Colombia
Schools also said they may have to start taking revisions if there was any change on the decision to cancel exams. Std XII students also said that the exam date should be announced soon so that they can prepare for exam accordingly.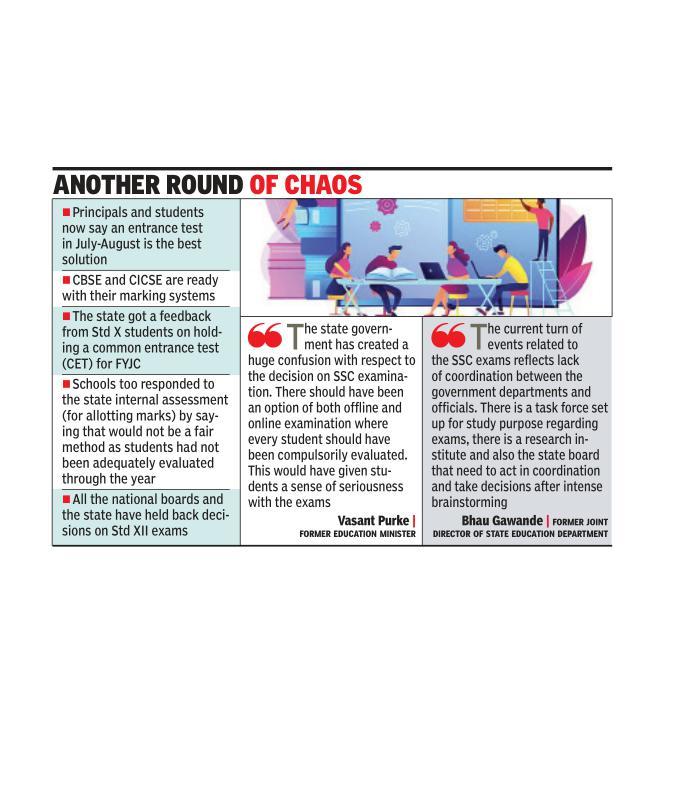 The Bombay high court came down heavily on the state government's decision to not hold SSC exams and said that it was making a mockery of the education system.
A PIL by former senate member of Savitribai Phule Pune University (SPPU), Dhananjay Kulkarni stated that cancelling SSC exams would lead to problems for FYJC admissions.

Anvika Firodya, a student, said, "The moment we thought we had no more academic work we are now getting jitters that we might have to start all over again."

Another student, Yash Mhatre, said that, "I have been preparing for the foundation course of the IIT entrance exam and it begins two years in advance. I am unable to concentrate because of the chaos around and there is constant discussion among students and also on social media which makes me feel even more confused about the situation."

Parent of another std X student, Shrikant Gupta, said that, "The state government has totally failed to deal with the situation of the board students. They are in an extremely tight shot and we feel that the government has played with the future of students."

Director of IITian's Prashikshan Kendra, Durgesh Mangeshkar, said that, "To avoid further embarrassment, Maharashtra government may suggest to HC that they shall conduct a single-day all-subjects CET-type Board exam for Std.10 & 12 on different dates and different question papers as is feasible region wise. The court may question the government how to ensure parity amongst different question papers and exam dates. I suggest a percentile system can be used instead of percentage. Percentile shall be calculated using the base of students who gave exam on that date. Same method used in JEE MAINS."