NEW DELHI: While the Virat Kohli-led Indian team will be busy preparing for a 5 Test series in England (starting August 4), a second-string Indian team is scheduled to tour Sri Lanka for a limited-overs series in July.
The formal schedule for the same and the squad have not been announced yet. But it is likely to be a three ODI and three T20 series.
National Cricket Academy chief and former India cricketer Rahul Dravid is set to travel with the team as head coach, in the absence of Ravi Shastri, who will be in England at that time with the Test team.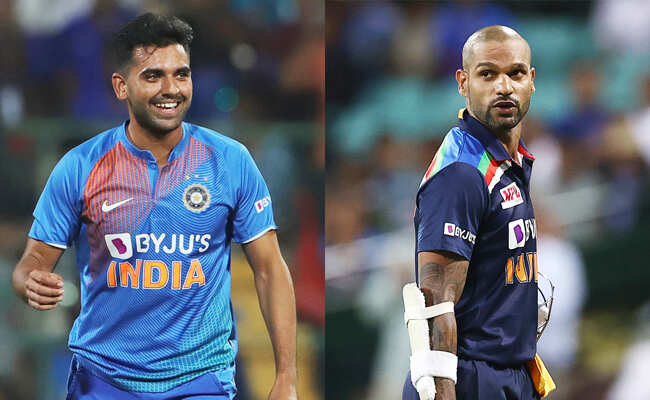 Deepak Chahar and Shikhar Dhawan
COUNTDOWN TO SRI LANKA TOUR
Though it is being called a second string side, there are multiple established names who are going to be part of the squad. The likes of Shikhar Dhawan, Hardik Pandya, Bhuvneshwar Kumar Shreyas Iyer, Yuzvendra Chahal, Deepak Chahar, Krunal Pandya, Prithvi Shaw and T Natarajan, among others could all be on the flight to Sri Lanka.
As far as captaincy is concerned, it remains to be seen if the selectors announce different captains for the two formats or one captain for both the ODIs and T20Is. The leading contenders for the position currently seem to be the likes of Shikhar Dhawan, Hardik Pandya and Shreyas Iyer (if available). The vice-captain could also very well be picked from this list.
India medium pacer Chahar, who has so far played 3 ODIs and 13 T20Is for India is one of the favourites to be picked in the squad. And he feels the experienced Shikhar Dhawan should be the first choice pick for captain.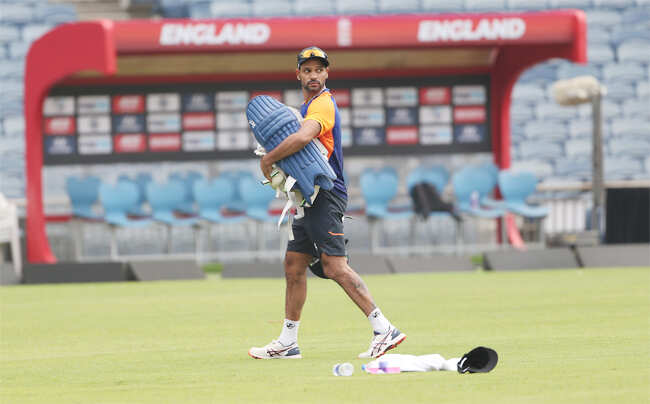 (Image credit: Photo by Surjeet Yadav/Getty Images)
"Shikhar bhai will be a good choice (for captain). He has been playing for a long time and has a lot of experience. For me, a senior person should become a captain. Because players see that player as a senior and respect him and obey him with honesty. Players should respect their captain. He (Dhawan) will be a good choice," Chahar told TimesofIndia.com in an exclusive interview.
'CONFIDENT OF A GOOD SHOW IN SRI LANKA'
As far as his own form and mindset are concerned, Chahar is confident he will be able to put in a good performance against the Lankans.
"I am all set for the Sri Lanka tour. I bowled well in the IPL. I was in good touch. I am excited to play in Sri Lanka. In my opinion, experience gives you a lot of confidence. I have experience now and I am confident of a good showing in Sri Lanka. I am sure we will emerge victorious against Sri Lanka. Our second-string team is looking as strong as the main team. We have a lot of options," Chahar further said.
THE MS DHONI IMPACT
One man who Deepak credits for a lot of his success is his Chennai Super Kings captain and former India captain, MS Dhoni.
Mahendra Singh Dhoni's guidance for youngsters, from behind the stumps, is no secret. Deepak himself has gained from Dhoni's vast pool of knowledge and experience, first hand at CSK.
"It was a long-cherished dream of mine to play under Mahi bhai. I have learnt a lot under his captaincy. I have taken my game to another level under his guidance. He has always backed me. He taught me how to take responsibility. There is no one in my team (CSK) who bowls three overs in the powerplay. I do that. That's because of Mahi bhai. Bowling the first over for a team is not an easy job. With time, I have improved and learnt how to control the flow of runs, especially in T20s," Chahar further told Timesofindia.com.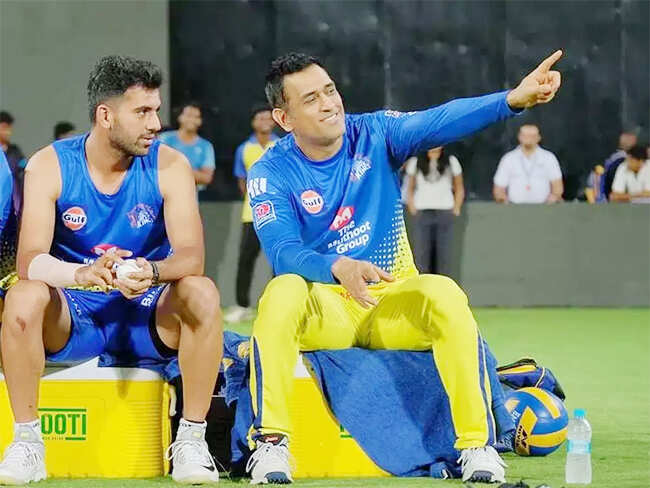 Deepak Chahar and MS Dhoni (BCCI/IPL Photo)
Chahar claimed 8 wickets in 7 matches at an economy of 8.04, including two four-wicket hauls (vs Punjab Kings and Kolkata Knight Riders) in phase 1 of IPL 2021. He began proceedings with the ball for CSK in both matches.
Playing against Punjab Kings, Chahar bowled a fiery spell, dismissing Mayank Agarwal, Chris Gayle, Deepak Hooda and Nicholas Pooran. He was adjudged Man of the Match for his stupendous spell of 4 for 13 in his allotted 4 overs. CSK won the match by 6 wickets.
In the match against Kolkata Knight Riders, Chahar returned outstanding figures again, this time they read 4 for 29 in 4 overs in CSK's 18-run win. He got rid of Nitish Rana, Shubman Gill, Eoin Morgan and Sunil Narine in the match to reduce KKR to 31/4 in 5 overs.
"Mahi bhai has made me a powerplay bowler. He always says 'you are my powerplay bowler'. He, most of the time, gives me the first over of the match. I have been scolded by him a lot (laughs), but I know those talks and that guidance has benefitted me a lot as well and helped me grow as a bowler. He (Dhoni) knows his players well and he uses them wisely. He knows who is good at the death, who is good in the powerplay and who is good in the middle overs," he said.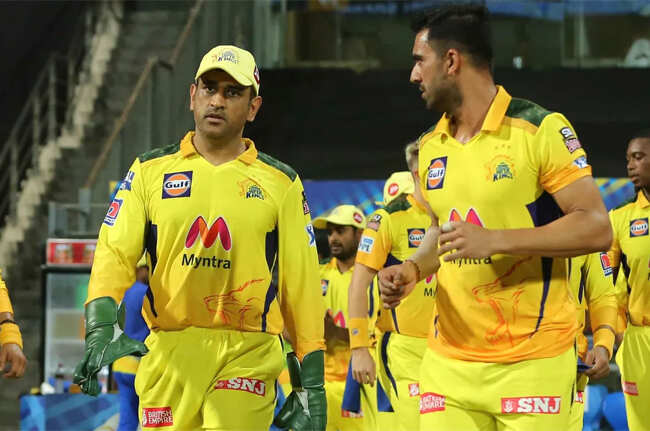 Deepak Chahar and MS Dhoni (BCCI/IPL Photo)
BREACH OF BIO BUBBLE AND IPL POSTPONEMENT
Chahar played 7 games in the IPL 2021 before the league was suspended indefinitely after players and support staff of various franchises tested positive for Covid-19.
The 28-year-old lauded the BCCI for the way the Board handled things and helped players reach their respective destinations safely after the call to suspend the league was taken.
"I would appreciate the way the BCCI handled all things smoothly. Be it, Indian players or overseas players, everyone reached their respective destinations safely and without any problems," Chahar said.
Two CSK support staff members, L Balaji and Michael Hussey tested positive for Covid-19 at different points in time during IPL 2021.
"I don't think the bio-bubble was breached by any player (in phase 1 of 2021). But when a bio-bubble is contaminated, it is very difficult to rebuild it. It takes time to re-make it again. No one expected Covid cases within the teams. Hats off to the BCCI for the way they tackled things and took care of all of us," Chahar further said.
DEEPAK CHAHAR AND HIS 'RED BALL' DREAMS
Every cricketer's ultimate dream is to play Test cricket for the country. Deepak wants to play red ball cricket too. The 28-year-old, who made his international debut against England in Bristol in a T20I match in 2018, has 2 ODI and 18 T20I wickets under his belt so far.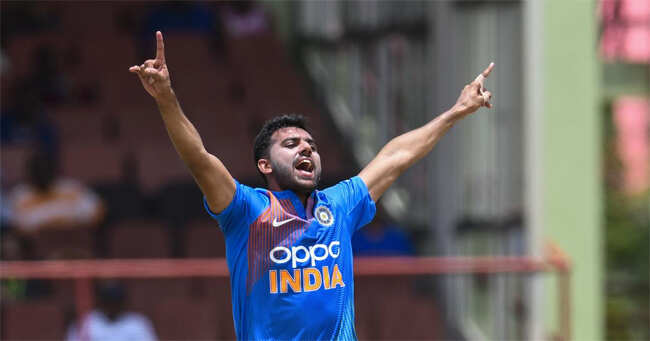 Deepak Chahar (BCCI Photo)
"Playing Test cricket is my ultimate dream. I know how to swing the ball and swinging conditions favour me a lot. The (Test) team is going to England. I wish them all the best. Bowling in English conditions has its own charm," Chahar told TimesofIndia.com.
"I have played in England and I have enjoyed bowling there. I am sure the selectors will give me a chance someday. I have played T20Is and ODIs and I have to prove myself a lot in these two formats and I hope I make it to the Test team someday. I look forward to playing Tests for the country." Chahar signed off.