THIRUVANANTHAPURAM: Old time Communist leader and former Kerala minister, KR Gouri Amma, passed away in Thiruvananthapuram on Monday.
The 102-year-old leader was undergoing treatment for age-related illness at a private hospital in Thiruvananthapuram.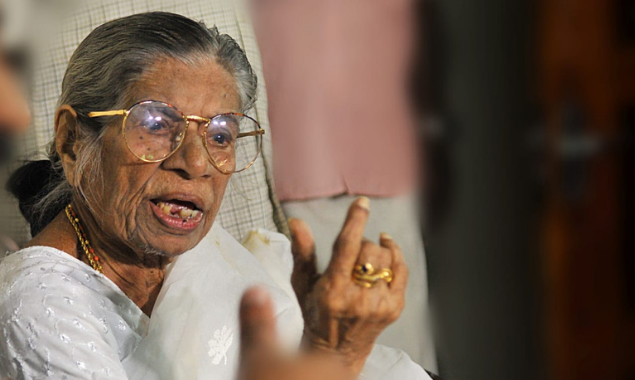 Born on July 14, 1919 at Cherthala in Alappuzha district, Amma was an inimitable personality in Kerala politics.
After completing her study of Law, she became a member of Communist Party of India and played a lead role in organizing struggles and leading agitations for the rights of the labourers and underprivileged sections.
The agitations against Travancore Divan CP Ramaswamy Aiyar, especially the Punnapra Vayalar struggle, took the lives of several people that prompted Gouri Amma to plunge into politics.
A firebrand leader, Amma had been subjected to physical torturing by police for a number of times.
She had in 1948, contested unsuccessfully to the Thiru-Kochi assembly from Thuravur constituency in Chertahal thaluk. But, she was elected to the same assembly with a thumbing margin in 1952 and 1954.
In the first election to Kerala assembly in 1957, Gouri Amma successfully contested the election to become the first revenue minister of Kerala.
It was during this time that she and another towering communist leader and minister in the same cabinet — TV Thomas. When the communist party split, Gouri Amma stood with the reformists, while her husband chose not to leave the CPI. The marriage, however, did not last much long.
Gouri Amma had won 13 assembly elections. She contested 17 elections in total. She became minister in six governments.
Gouri Amma was the chief architect of several of the legislations that the communist government passed — land reforms act, the act against expulsion of landless from government land.
Following a prolonged inflight in the CPM and difference of opinion with the CPM leadership, Gori Amma was ousted from the CPM in 1994.
She then formed her own political party-Janathipathya Samrakshana Samithi- and aligned with the Congress led United Democratic Front and became minister.
Following the difference of opinion leadership, Gouri Amma later left the UDF camp in 2016.
She again gravitated towards the CPM by the fag end of her political career.
CPM leaders, including Pinarayi Vijayan had visited the leader. Though there discussions on her going back to the CPM, it reached nowhere.