KOLKATA: Chief minister Mamata Banerjee has struck a fine balance between experience and fresh faces, packing her council of 43 ministers with eight women and seven members from the minority community.
While handpicking her team, Banerjee has had an eye on district representation. She has also undertaken some major changes in portfolio distribution, possibly based on public feedback.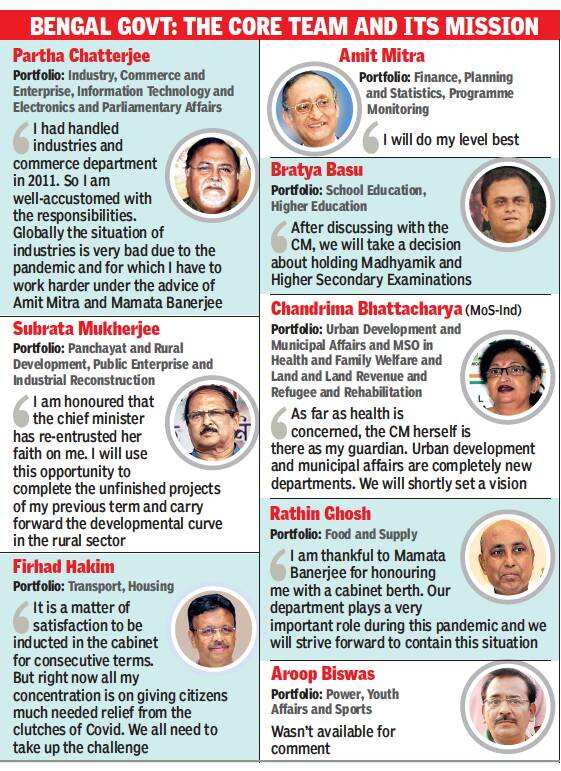 Like earlier, the CM has kept for herself a few key departments such as home, Hill affairs, health and family welfare, land and land reforms, refugee relief and rehabilitation, information and culture, and north Bengal development.
Glimpses at oath taking ceremony @MamataOfficial https://t.co/oocSDmxoDu— Governor West Bengal Jagdeep Dhankhar (@jdhankhar1)
She has passed on minority development and madrasa education to Ghulam Rabbani, three-time MLA from Goalpokhor in North Dinajpur.
Under the new arrangement, higher education goes to Bratya Basu, like it was before Partha Chatterjee had taken over, and school education to former Left Front minister-turned-Trinamool MLA Paresh Adhikary.
Retired IPS-turned-Trinamool MLA Humayun Kabir is the new technical education minister. Both Adhikary and Kabir are ministers of state.
Chandrima Bhattacharya has got independent charge of urban development and municipal affairs, along with her responsibilities as MoS health, land reforms. Amit Mitra will look after finance.
He has been relieved of the commerce industry portfolio that has been assigned to Partha Chatterjee, other than parliamentary affairs.
Former urban development minister and Kolkata ex-mayor Firhad Hakim is the new transport and housing minister.
Aroop Biswas will handle power, sports and youth affairs while former power minister Sobhandeb Chattopadhyay will manage the agriculture department.
Moloy Ghatak is the new public works department minister and will also handle law and judicial portfolios. Ratna De Nag is the new environment minister.
Madhyamgram MLA Rathin Ghosh is the food minister while Jyotipriya Mullick has been given forest portfolio.
Two inductions from East Midnapore include Soumen Mahapatra and Akhil Giri. Mahapatra is a Cabinetrank minister in charge of irrigation and Giri is MoS in charge of fisheries.
Another major inclusion in the Cabinet is Manas Bhuniya, Trinamool's Rajya Sabha member.
He had served as Cabinet minister in the first Mamata Banerjee regime in 2011 till Congress (Bhuniya was then with Congress) pulled out of the government. Bhuniya is in charge of water resources and investigation department.
The other cabinet portfolios remain more or less the same.
Trinamool veteran Subrata Mukherjee has panchayat and rural development and also public enterprises while public health engineering goes to Uluberia Dakshin MLA Pulak Roy, a new entrant.
Former cricketer Manoj Tiwari is minister of state for youth affairs.
The new council has representation from backward classes, including Adivasis, that had been a major plank of the BJP.
Bulu Chik Baraik, Sandhya Tudu, Srikanta Mahato, Birbaha Hansda and Jyotsna Mandi are among the prominent inductees.