NEW DELHI: Pranati Nayak has become a household name in Midnapore (city and municipality in West Bengal).
Once you are there and ask for Pranati, the reply is usually the same – 'Achha, woh jo Olympics jaa rhai hai' (Oh, the one who is going to the Olympics?)
Pranati became just the second female gymnast from India to qualify for the Olympics, after Dipa Karmakar, when she was assured of an Olympics berth recently after qualifying via the Continental quota. She became eligible to qualify when the Senior Asian Championships, which were scheduled to be held in China from May 29 were cancelled due to the COVID pandemic. She was the reserve behind a Sri Lankan gymnast for the Asian quota.
Pranati's father, Sumanta Nayak, who used to be a private bus driver, is busy making calls to his relatives and sharing the news of her daughter booking an Olympic ticket. Her mother speaks with Pranati almost twice a day and is making a list of dishes she will be preparing for her daughter when she gets back home.
"My mom is so happy. 'Tomar jonno Tomar moner moto khabar banabo jokhon tumi asbe. Bolo ki ki khabe? Tumi baire khelte jacho. Ami khub khushi. Onek phone aschhe amader kache (I will cook everything you want to eat when you get back home. What do you want me to cook for you when you come home? Tell me what you wish to eat? You are going abroad to play, I am very happy. We get so many phone calls from people these days)." Pranati told TimesofIndia.com.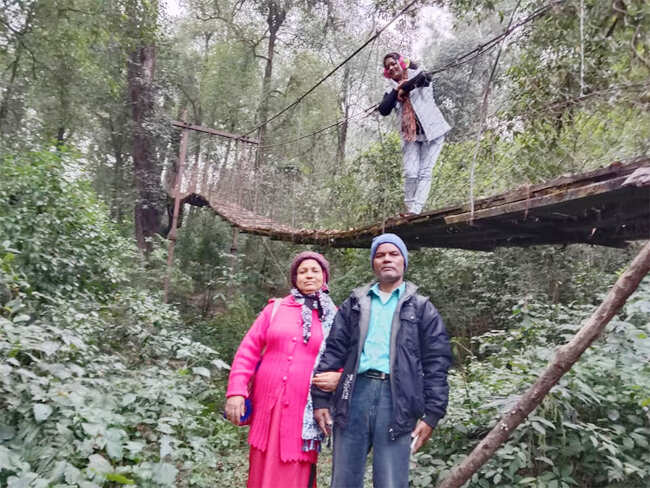 Pranati, her father and mother (Image credit: Facebook)
"She (Pranati's mother) is so happy. She is just waiting for me to prepare my favourite dishes – Murgir jhol, Chingri macher malai curry, Sukto, Maach bhaja (chicken curry, prawn malai curry, fish fry etc). We prepare all these dishes during festivals. She is waiting for my arrival and that won't be less than a festival for her," the 26-year-old Pranati, who is currently in Kolkata further said.
Pranati, who had won a bronze in the vault discipline at the Asian Artistic Gymnastic Championships in 2019 is currently living her dream. The dream every athlete has since they start training – going to the Olympics.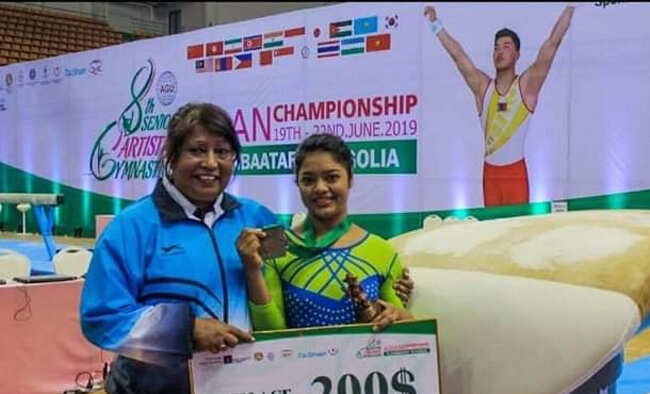 Pranati with her coach Minara Begum (Image credit: Facebook)
"I never imagined that I will be able to live this long-cherished dream -representing my country at the Olympics," the proud gymnast further told TimesofIndia.com.
THE STRUGGLE
Pranati comes from a humble background. She was eight when she began training, after an initial rejection at the SAI training centre in Kolkata, because they felt she was "too thin".
And the journey wasn't easy. Her father was a private bus driver and had to give up earning his daily wages to travel almost 5 hours one way to take her to the training centre in Kolkata.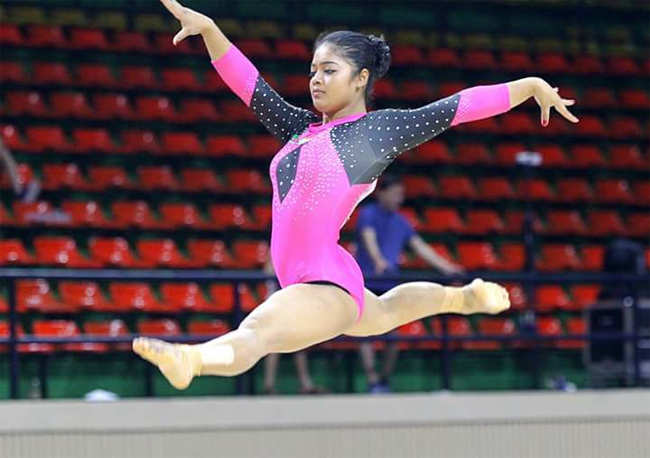 Image credit: Facebook
After failing to get a hostel facility in the city for a while, Pranati finally managed to get accommodation at one place. But she had to clean the house, wash utensils, study, and then go for her gymnastic classes in the evening.
When Pranati's coach at the SAI centre, Minara Begum, found out about her situation, she decided to keep Pranati with her and take care of her.
"When I got to know, I was in shock. I decided to keep her (Pranati) with me in my hostel room. I took entire responsibility. Because her father was a bus driver and it was not easy for him to leave his job, travel with her, and look after her properly. She was from a poor family. I was stunned by the passion and madness Pranati had for the game. She was determined. I decided to look after the talent by myself. She was a kid and needed support and guidance. I took care of her just like my daughter. From education to training, I took care of all her expenses," Pranati's coach Minara, who worked in SAI Kolkata, told TimesofIndia.com.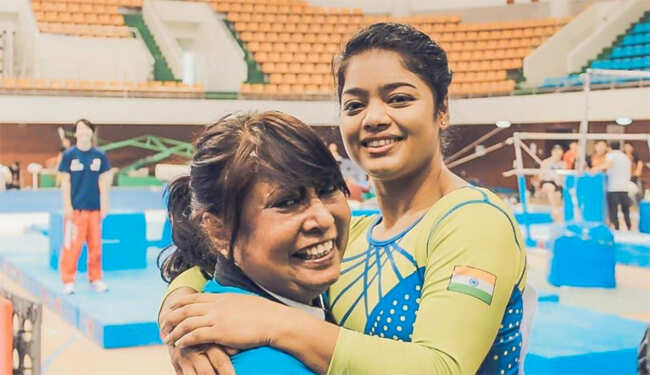 Pranati with her coach Minara Begum (Image credit: Facebook)
"She was determined and keen to learn. She was a kid. And, it was my duty and responsibility to guide her in the right way. I am so so proud of her today," the now retired Minara further said.
One day, Minara spoke with Pranati and told her that if Pranati manages to win a medal at the state championships, she could arrange for her to get a private hostel room.
"Pranati listened to my words carefully. She didn't say a single word. The state championships came and Pranati participated and won a gold medal and with it a hostel room as well," the coach revealed.
HAPPIER TIMES
Pranati's family's fortunes changed when she got a government job (with the Railways) in 2018 with the help of the sports quota. She doesn't let her father drive a bus anymore and has asked him to take care of his health.
"My father has put in a lot of hard work for me. Now, it is my turn to serve my parents. The journey wasn't easy. I am really thankful to my parents and Minara ma'am for whatever I am today. I don't let my father drive the bus anymore. I have asked him to be at home and enjoy life," Pranati told TimesofIndia.com.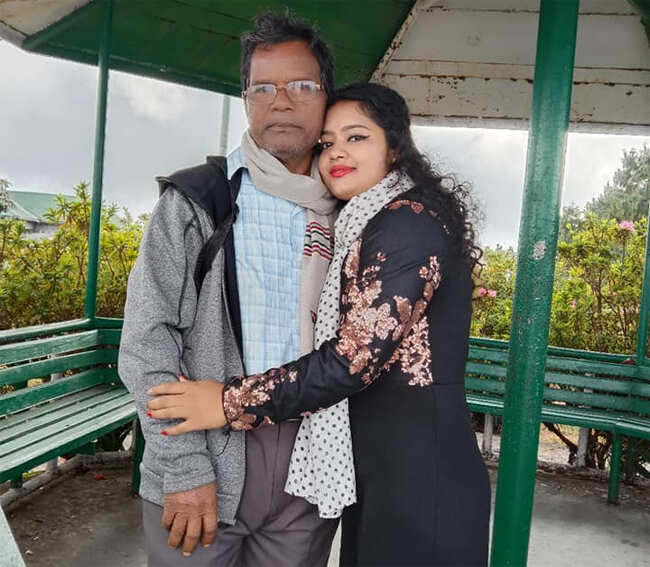 Pranati with her father (Image credit: Facebook)
"The government job has helped me a lot. I play with full confidence now," the 26 year old from West Bengal further said.
WORDS OF WISDOM FROM DIPA KARMAKAR
Pranati is in regular touch with her senior – Indian gymnast Dipa Karmakar. Karmakar represented India at the 2016 Olympics in Rio, becoming the first Indian female gymnast ever to compete at the Olympics. She narrowly missed out on a bronze medal, finishing in fourth position in the vault event, with an overall score of 15.066.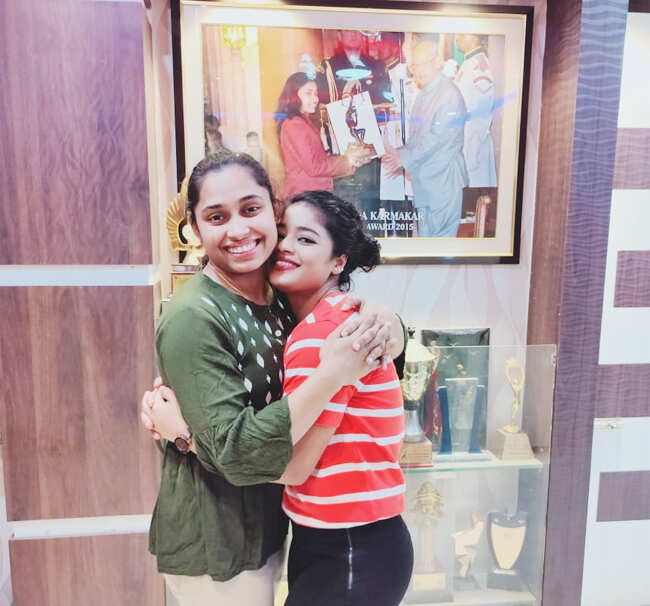 Pranati with Dipa Karmakar (Image credit: Facebook)
"Dipa didi was the first one to call after I qualified for the Olympics. She was extremely happy. She gave me a lot of tips and asked me to be confident. She shared her Olympic experience with me. She also told me what Olympic pressure is all about," Pranati said.
"I admire her (Dipa). She has achieved a lot for the country. I also want to do the same. My father also gives me the example of Dipa didi and says – 'you will have to go to the Olympics just like Dipa.' My father is so happy and I am glad that I have made him proud," the 26-year-old signed off.